Registration Cut Off Date is July 1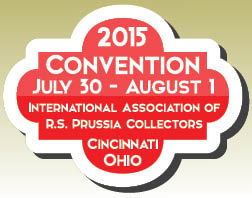 2015 Annual Convention
July 30 - August 1
Mason City, Ohio
Cincinnati Marriott Northeast
9664 S Mason Montgomery Road • Mason, Ohio • 877-204-8216
R.S. Prussia Convention Room Rate
$109 + taxes for double occupancy (R.S. Prussia Club Member Rate).
Includes breaksfast for guest.
• Must be a R.S. Prussia Club member to receive this special rate.
• RSP Hotel Guest Breakfast Buffet - Atrium, 6 - 9 am
• The Hospitality Room is located in the Warren Room, just off the lobby and diagonally across from the hotel restaurant. This year's Hospitality Room is dedicated to the memory of Norma Tackett. The Hospitality Room will be closed during meetings, seminars and may be closed during auctions so that all members can participate in and enjoy the convention.